In the year 3139, humanity will stand before the Supreme Intergalactic Court of the Kaennashakk (S.I.C.K), awaiting judgment. This radio show will be entered as evidence by the prosecution.
Podcast: Play in new window | Download (Duration: 1:00:19 — 41.5MB)
Intro songs:
BEHEAD THE PROPHET N.L.S.L. — Transdimensional Soldier
K.C. MILIAN — Dal Bisbiglio Lacerato di una Parola Senza Passato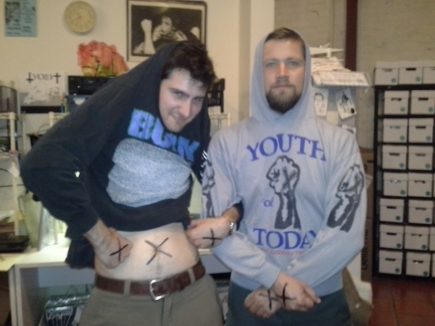 First Charge: The defendant refuses to play any old stuff that we actually like
PERMENANT MAKEUP — Gibbering Slobbering
JAILBIRD Y — Room [B] Session
RICHARD YOUNGS — Fast Emotions to Go
BIZARRE UPROAR — Untitled 3
MINDLESS — Social Death
Second Charge: The defendant refuses to play any EARTH CRISIS
MINOR THREAT — Straight Edge
CHAIN OF STRENGTH — True Till Death
YOUTH OF TODAY — Thinking Straight
GORILLA BISCUITS — Hold Your Ground
JUDGE — Hear Me
Third Charge: The defendant refuses to let the mellow be, harshed or otherwise
LUNGFISH — Abraham Lincoln
INDIAN SUMMER — Angry Son
HOOVER — Cable
DON MARTIN THREE — Untitled 4
STILL LIFE — Useless
Outro song:
WEED — Tie to Everthing You Own
——————————————————-
B-B-B-B-BONUS! Hour-long waste of your time…
Intro song:
LUNGFISH — Creation Story
Verdict: Guilty of fucking up the rotation (also bogarting that shit)
HOT & COLD — Test Tower
U.S. MAPLE — Letter to ZZ Top
MELT BANANA — Then Red Eyed
OLDEST — The Power to Ignore
HAPPY FLOWERS — We Rock
Sentence: 10,000 millennia of whack vibes
BAD SWIMMERS — Forcing Something
SOULSIDE — Trigger
ASK THE DEAD — Stockholm Syndrome
MEN'S RECOVERY PROJECT — This Fascist Kills Guitars
DIVORCE — Pencils Giant Pencils
WORST CASE SCENARIO — Umbilical Nose
Final appeal: But we made pot brownies and let you crash on our couch when your girlfriend kicked you out
HOSE GOT CABLE — Chevy Chase Motherfucker
TINA AGE 13 — Foggy Head
STRETCHHEADS — Omnipresent Octopus
THE MOLES — Wires
THE GREAT UNRAVELING — Space Travel
Outro songs:
(YOUNG) PIONEERS — Fuck the Labor Pool/Paralyzed Veteran
MRR Radio is a weekly radio show featuring the best DIY punk, garage rock and hardcore from the astounding, ever-growing Maximum Rocknroll record collection. You can find the MRR Radio podcast, as well as specials, archives, and more info at' radio.maximumrocknroll.com. Thanks for listening!