This week, a lazy Sunday messy bedroom broadcast with Francesca. Heavy demo vibez & bad energy, for real.
Podcast: Play in new window | Download (Duration: 1:03:02 — 45.9MB)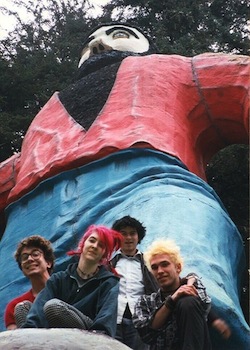 Intro:
THE PARTICLES – Remington Rand
Sleeping on top of letters and zines
SIZE – Tonight
ANIMALS & MEN – Don't Misbehave in the New Age
DOG FACED HERMANS – Calley
HEAVENS TO BETSY – Firefly
BLACK FORK – Demo 1994
Half-finished mixtapes & letters
RED THREAD – Stay Fat
WEIRD TV – Sex
GENERATION LOSS – Enter the Void
INDEX – Inflation
ERIC'S TRIP – Eyes Shut
Calendar stuck on last month
HAZEL – Mr. Magazine Man
SPRAY PAINT – I Need a Bag
BAD ENERGY – Community Creeper DFC
DREGS – Tactics
JADED JUICE RIDERS – Rich Kids
Glue bag stuck to a shoe
MIAMI – Sleepwalking Through Life
DEAD MOON – Hey Joe
SKULL OF GLEE – You Are the Animal
NEO BOYS – Give Me the Message
FASAGA – Pogo in der Strassenbahn
Can't win, don't try.
MO-DETTES – Norman (He's No Rebel)
VAURIO – Sortoa ja Vainoa
JOYCE McKINNEY EXPERIENCE – Armchair Critic
BIG BOYS – Pil Beach
NO EXIT:
ANEMIC BOYFRIENDS – Guys Are Not Proud
Maximum Rocknroll Radio is a weekly radio show and podcast featuring DIY punk, garage rock, hardcore, and more from around the world. Our rotating cast of DJ's picks the best of the best from MRR magazine's astounding, ever-growing vinyl archive. You can find MRR Radio archives, specials, and more at radio.maximumrocknroll.com. Thanks for listening!