So, the thing is, we came here trying to be all business, and for a while it worked out OK, but then we just got really strung out and talked about that road trip we took that one time. You remember that one? Wait, did you go with us? No? Did I ever tell you about it? Oh shit man, buckle yourself in, I have got some tales to tell you.
Podcast: Play in new window | Download (42.5MB)
Intro song:
INFINITE VOID — Something Is Lost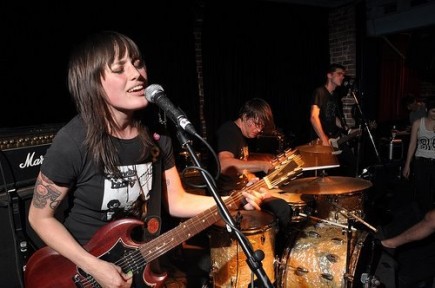 Pete — All Business, All Mosh, All the Time (Please note, Peter Avery in no way condones moshing, at any time, under any circumstances)
BAADER BRAINS — RE: The Procyon Incident
PERMENANT RUIN — Legacy
PREGNANCY SCARES — Cross Eyed Man
TOY LOVE — I Wanna Die With You
MAN IS THE BASTARD — H.S.M.P.
Lorraine — Lookout! Here comes records!
CRIMPSHRINE — Tomorrow
BIG RIG — New Fist
SEWER TROUT — People Like Me
PORCELAIN BOYS — Sidetrack
SWEET BABY — There's This Girl
Langford — Drugs Drugs DRugs dRugs DDdrugs drugs DRUGS drugssSSSss
HEROIN — Undertaking
NEEDLES — Desastre
THE EX — Elvis & I
DIET COKEHEADS — Serpentine
WEED — Even Black
Greg — I went on tour and saw these bands!
NO SIR I WON'T — No More Poetry
NERVOSAS — Incineration
FROZEN TEENS — Bury Me Alive
COMMON VISIONS — Ice Queen
DEFECT DEFECT — Post Apocolypse
ADOLESCENTS — Kids of the Black Hole
Outro song:
SICK SICK BIRDS – Conversation