Dan plays his usual new stuff, early '80s, and early 2000's.
Podcast: Play in new window | Download (Duration: 58:16 — 40.1MB)
Intro songs:
VARUKERS – Another Religion
POISON IDEA – New Right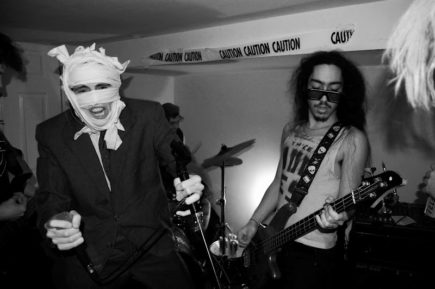 The New Bin
DICKS – Lifetime Problems
WILD MOHICANS – Police Violence
REACHAROUNDS – Take to the Streets
SICK FIX – Phoenix
MUNCHAUSEN – Couch Rot
SCHOOL JERKS – Intro/Why Ask Why?
The New Bin
SNAKE RUN – Christcore on Parade
NIGHT BIRDS – Killer Waves
NEIGHBORHOOD BRATS – Shark Beach
THEE NODES – Stagedive
IDIOT TALK – Where is the Fun?
The New Bin
MALE NURSES – Call the Doctor
PUFFY AREOLAS – 1982
ILEGAL – Dinero y Poder
DRUG CULTURE – Prescribe
RUN DOWN – The Coming
Local Demos
DISPLEASURE – F.T.L.
INDEX – Rich
Killed By the Early 2000's
SHARK ATTACK – Blood in the Water
GATECRASHERS – Kicked Out
THE FUTURES – Evil
VIOLENT RAMP – Grind the Pigs/Pay to Skate
BLASTFO-ME – Chit Chat with the Secret Service
Deviod of a Theme
THE RIVAL MOB – Raw Life
GOVERNMENT ISSUE – Religious Ripoff
CLITBOYS – Gay's OK
DEVOID OF FAITH – Mainline
Outro song:
CITIZEN'S ARREST – Without Peace