Amelia's first shot at hosting MRR Radio rounds up the punx to rip ya a new one, breaking ear drums & takin' the piss – sod off!
Podcast: Play in new window | Download (Duration: 59:47 — 41.1MB)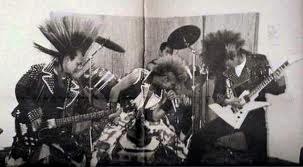 Intro song:
KANDEGGINA GANG – Sono Cattiva
Amelia – Go Go Go to Hell
EFFLUXUS – Lifeless
DESTINO FINAL – '¿Dónde Están?
SO WHAT – Bauot Drug
PLAYGROUND – Seeking the Truth
Mariam – New Hardcore!!!
SLICES – Greensleeves
OMEGAS – Fevered Freedom
CARCINOGENZ – Die
WALLS – Stare at the Walls
Matthew – a la Daniel
LOCUST – Moth-Eaten Deer Head
THE DICTATORS – 16 Forever
PROTESTANT – Covered
TOTALITÄR – En Spiral Av Hat
Rotten Ron – Sleazy Biker Punk
MDK – Widowmaker's Revenge
WHORE PAINT – Second Shift
SLURRED VISION – Liquid Salvation
VOM – Too Animalistic
STAINS – Get Revenge
Hal – WTF…Bring It!
FLIP TOPS – Hate My Guts
PIZZAS – Rock n' Roll Radio
RAD – Geekanomics/So Say We All
NERVOUS – Greatest Generation
PAPER BAGS – S.Y.F.A.T.B.
Outro songs:
CRIMSON SCARLET- Sanctuary
VAGINORS – Cry Baby