Log in at beta.radio.maximumrocknroll.com/wp-admin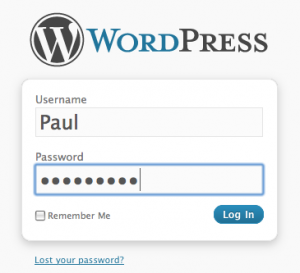 ---
On the left side of the window, click the arrow next to Post and then select
Add New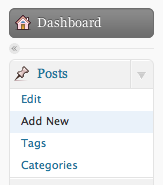 ---
Go to the
MRR Radio Archives
page and click on the show you want to post. Select and
copy all of the text shown here
: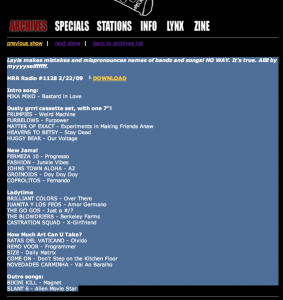 ---
Go back to WordPress and
paste the text
into the main window. Be sure you are in
HTML view
, not Visual when you paste the text.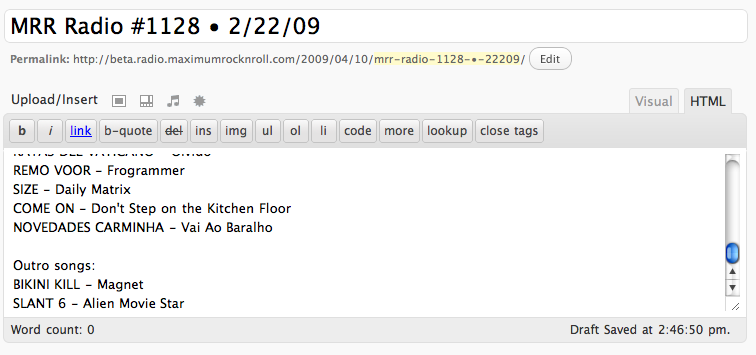 ---
At this point, scroll to the top of the text and copy and paste the show title into the top field.' Make a space-bullet-space between the show number and the date. Here's a bullet for you to copy-and-paste – (On a Mac you can type option-8)
Switch to Visual mode instead of HTML
For the line that goes "MRR Radio #1128 2/22/09 DOWNLOAD", make it read "DOWNLOAD MRR Radio #1128" (no date).
Select the "MRR Radio #1128" part and click the "insert/edit link" button (looks like a chain!)
Paste in this URL, but change it to the appropriate show number at the end:
http://radio.maximumrocknroll.com/wp-content/uploads/2009/04/mrrradio1128.mp3
Set target to "Open link in a new window" and click Insert
---
Select the
first paragraph
and style it bold and
italic
with the B & I buttons above the text. All of the
set titles
get styled bold ("Intro song:", "Rob' – New jams from Israel", etc.)
---
Next, click on the Edit button after the
Permalink
under the Title at the top. Type in the show number in the style shown ("mrrradio____") and click Save.

---
The last step involves the
Publish
pane, and you can actually do this at any time during the process. Click on Edit right after "Publish immediately" and
change the date
to the date of the radio show (the time doesn't matter).
Click "OK" then click Preview to' check that it looks OK.
If it's OK, go back to WordPress and click Update Post.
You're done! Contact the Web Coordinator at webzine@maximumrocknroll.com' if you have any trouble.
Thanks very much!!!