CLEAN VERSION FOR RADIO AIRPLAY:
We now have a podcast available for the censored version of MRR Radio! Go to the clean version page for more info.

SYNDICATION:
MRR Radio is available for any radio station (or website) that wants to play it. Just download the MP3. You have our permission as long as you email us and let us know your station name or call letters, frequency (and/or url), and the day and time you're playing the show.

RADIO STATIONS AND WEBSITES THAT CARRY MRR RADIO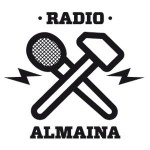 ¡Now on Radio Almaina 107,1 FM in Granada, Spain, Monday at Midnight and Saturday at 9 am!

KZUM-FM 89.3 Lincoln, Nebraska, Sunday night at midnight (Central Time). Airing MRR Radio in Lincoln for over 20 years! Cheers to Rich D.
Ràdio Bronka 104.5 FM Barcelona, Spain, Thursdays from 11:30am-12:30pm (GMT+1) and Fridays  9-10pm (GMT+1) …con introducción en español.
Emisión por Internet (streaming audio)
CJSF 90.1FM Burnaby, BC, Canada. Tuesday 5am (Pacific Time)
Free Radio Santa Cruz 96.3 FM & 101.1 FM, Thursday 1-2pm (Pacific Time)
Hussieskunk Radio For Punk Snobs, Sunday 4pm, Wednesday 9pm & Friday 8am (Eastern Time)
WCSB 89.3 FM, Cleveland, OH, Monday 4–5pm
WSGR 91.3 FM, Port Huron, MI, Friday 11pm
CKDU 88.1 FM, Halifax, NS, Canada, Tuesdays 3–4am
98 FM, Athens, Greece, Sunday 11pm (Κυριακή 23:00)
UMFM (CJUM) 101.5 FM, Winnipeg, MB, Canada, Saturdays 9–10pm (clean version)
KCSB-FM 91.9 in Santa Barbara, CA! Airing MRR Radio Thursday mornings from 4-5am
KPVL 89.1 FM • NE Iowa airing Wednesdays 11pm–12am